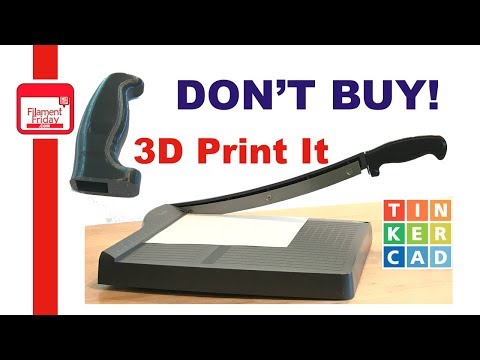 Chuck lost the handle for his paper cutter so why buy a new one when you can 3D Print a Handle for the Paper Cutter. He used a knife handle design from Thingiverse and then Tinkercad to modify it to fit his paper cutter. Printed in PLA on a CR-10 Mini and 4 hours later the problem is solved. He shows you all the steps in this episode of Filament Friday.
Original Knife Handle:
https://www.thingiverse.com/thing:899567
******Note*****
I received these printers for free as review units and gave you my honest opinion on the quality in my videos. I still use them everyday in my shop. Purchasing through these links does give the channel a small royalty but we do not have any control over the shipping or service from these providers. Please do your homework. Ask around and buy based on your comfort level. Some of these printers may have non -GPL compliant firmware and will need to be reflashed to be compliant. Please ask before purchasing.
CR10 Mini
From Banggood $309.99 shipped to USA https://goo.gl/zBYZj2
CR-10:
Original Single Z-axis Printer from Banggood: https://goo.gl/ke3UmY $379.99
CR-10 From GearBest.com $379.99 with Coupon Code: usca2 https://bit.ly/2pLZpow
***** Support the Channel ******************
EBAY USA: http://ebay.to/1wtxfiU
EBAY UK: http://ebay.eu/2qdC5iy
EBAY Canada: http://bit.ly/2qdGRwh
Support the Channel here and shop at MatterHackers.com and you automatically donate to the channel at no cost to you:
http://bit.ly/1Ugcijp
Shop Amazon.
(Costs you nothing and the channel gets a small reward):
http://amzn.to/1MH5n2F
Financial Support through Patreon:
https://www.patreon.com/elproducts
Direct Support through PayPal donation:
https://www.paypal.me/elproducts
****************************************************
Finishing Tool:
http://www.elproducts.com/3d-printing…
Filament Friday Playlist:
https://goo.gl/yJLNhr
Chuck's Arduino Book:
http://bit.ly/29QTbec
Chuck's Website:
http://www.elproducts.com
Slic3r, Cura and Simplify3D Settings for Fabrikator Mini:
http://www.elproducts.com/fabrikator-…
Intro animation by Pablo Licari based on Filament Friday Logo by Brian Carter.
Background Music (when used):
Jenny's Theme by Audionautix is licensed under a Creative Commons Attribution license (https://creativecommons.org/licenses/…)
Artist: http://audionautix.com/
Background Music (when used):
Daily Beetle by Kevin MacLeod is licensed under a Creative Commons Attribution license (https://creativecommons.org/licenses/by/4.0/)
Source: http://incompetech.com/music/royalty-free/index.html?isrc=USUAN1500025
Artist: http://incompetech.com/
**************** Free Filament Friday Sticker ***************
Send Self Addressed Stamped Envelope to:
Electronic Products
P.O.Box 251
Milford, MI 48381
**********************************************************