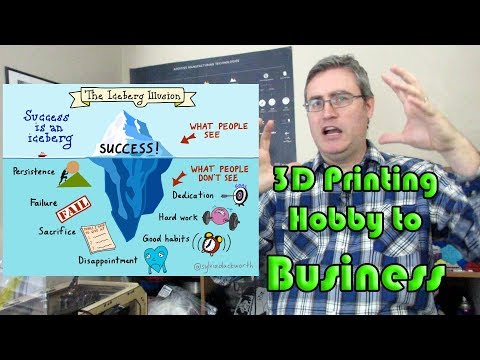 See part 1: https://www.youtube.com/watch?v=3urG1unvD-c
3D printing is a great hobby, but can it be more than that? Can you pay the bills with 3D printing? Am I paying the bills with 3D printing? Find out in this stunning expose while I outline the final few steps to turning your passion and hobby into a sustaining business.
You can buy your own copy of the Success Iceberg Illusion at Sylvia Duckworth's shop: https://sylviaduckworth.shop/
Be sure to like, subscribe, share and enjoy.
Buy the Beginner's Guide to the 3D Printing Galaxy on Amazon: http://amzn.to/2ws7OiT
Become a 3D Scholar on Patreon: https://www.patreon.com/3DPrintingProfessor
Shop at GearBest to support the channel: http://www.gearbest.com/3d-printers-3d-printer-kits-c_11399/?lkid=10971453
Follow my other 3D printing adventures at: http://joes3dworkbench.blogspot.com
All music by Kevin MacLeod (incompetech.com)
Licensed under Creative Commons: By Attribution 3.0 License
http://creativecommons.org/licenses/by/3.0/